A free map for walking around the hot spring resort called Osoto Heaven Map is available. Get your copy when you visit and enjoy taking walks around the Nagato-Yumoto Hot Spring resort.
How to enjoy and fall in love with the Nagato-Yumoto Hot Spring resort
The greatest attraction of the Nagato-Yumoto Hot Spring resort is the lifestyle and culture that has been created and nurtured here. Children play in the Otozure river that flows through the center of the resort,and locals relaxi on the terraces set up around the river and everyone bathes at the Onto Onsen. Evenings are spent eating and drinking at the resort's unique restaurants, resting on the benches along the riverside paths, enjoying the changing seasonal landscape, and the illumination throughout town. All of these rich experiences are available to visitors here as well.
The Association for the Utilization of Nagato-Yumoto Osoto is working to improve and beautify the use of public spaces such as the Otozure river and roads in the hot spring resort area. With Osoto (Open Air) Heaven as their slogan, the Association continues to plan numerous ways for residents and visitors to enjoy their walks in the community.
With the murmuring of the river and the tweeting of birds serving as the background music to your walks, your hours of enjoyment at the Nagato-Yumoto Hot Spring resort will make you want to return over and over again.
A cafe where you can enjoy Hagi ware creations by young potters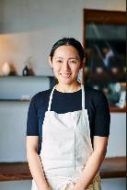 Right: Kazuyo Yokoyama, the second-generation proprietor. Left: The cafe offers a comfortable space with its plastered walls, riverside wood deck, and atmospheric antique furniture. The cafe exhibits and sells ceramics selected according to a theme of items that can be used every day.
Cafe & Pottery Oto
This cafe and gallery occupy a 50 year-old renovated wood framed home standing on the side of the Otozure river. The cafe exhibits and sells ceramics by three local artists who operate the Hagi ware Fukawa kiln. Works by these artists are also used to serve the handmade sweets and drinks served in the cafe space. The proprietor is sure you will be pleased with any dish on the menu.
Address: 1261-12 Fukawa-Yumoto, Nagato City, Yamaguchi Prefecture
Tel: 0837-25-4004
Business hours: 10:00 – 16:00
Closed: Wednesdays, Thursdays
Instagram: @oto_cafe
Unique Dorayaki sweets made with citrus fruits
Akebono Cafe
This cafe, attached to Hoshino Resorts KAI Nagato, is open to all visitors whether or not they are staying at the inn. The cafe offers three types of Dorayaki sweets: Azuki,Natsu Mikan, and Yuzukichi.
Address: 2229-1 Fukawa-Yumoto, Nagato City, Yamaguchi Prefecture
Tel: 0570-073-011 (Kai Reservation Center)
Business hours: 11:00 – 16:00 (subject to change)
Closed: No regular holidays
www.kai-ryokan.jp/nagato
Kawara Soba and bar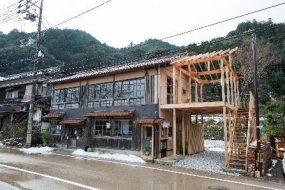 Daigo Nagaya
Owner Daigo Kimura renovated this historic wooden building on his own. Kawara Soba Yanagiya, a noodle restaurant, occupies the first floor, while The Bar Nagato occupies the second.
Uncompromising flavor achieved through trial and error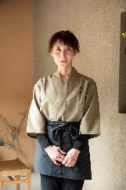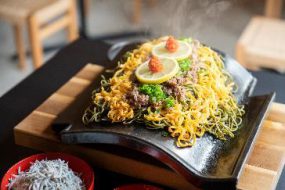 Right: Kawara Soba (single serving). The crispy noodles placed over the hot Kawara tile are also delicious. Left:Proprietor Misae Okazaki.
Kawara Soba Yanagiya
This shop has long pursued the ultimate taste of Kawara Soba, a local noodle dish in Shimonoseki, Yamaguchi Prefecture. The result of those efforts, and the pride of the chef, is a richly flavorful serving of green tea soba topped with Kinshi Tamago (strings of scrambled egg), savory beef, and local green onions from Nagato. They also offer Mitarashi Dango sweets (162 yen each) at the front of the shop.
Address: 1F, Daigo Nagaya, 1325-1 Fukawa-Yumoto, Nagato City, Yamaguchi Prefecture
Tel: 080-9185-3070
Business hours: 11:00 – 19:00 (Last order: 18:30)
Closed: Tuesdays, Third Wednesday
Instagram: @yanagiya.yumoto
Otozure River Terrace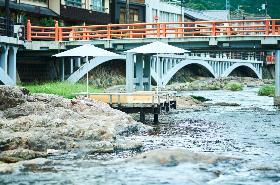 Several terraces have been installed along the banks of the Otozure river for use by anyone. These are great spots to enjoy your takeout meals.
Steppingstones in front of the Onto Plaza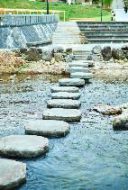 There are steppingstones laid across the Otozure river in five locations, allowing you to cross to the other side. Both children and adults enjoy playing in the river here during summertime. It is not uncommon to see swimmers here as well.
Okiza (Otozure Terrace)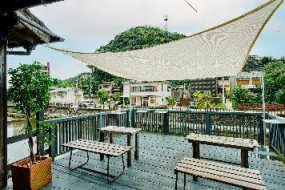 This terrace belongs to Cafe & Pottery Oto. Here you can enjoy the cafe's menu on the terrace with a close-up view of the Otozure river.
Benches and planters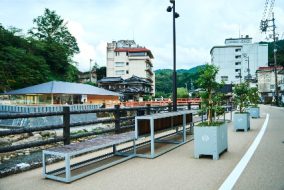 Benches and planters are installed to match the environment around the Otozure river to make your strolls through the area more comfortable. Why not grab a bench to enjoy a break while you gaze on the river?
The Bar Nagato
Owner Daisuke Kuroda has been bartending for about 30 years and serves cocktails made with local fruit, rare whiskeys or anything else your heart desires. "I would be more than pleased if the time spent here becomes a memory of your vacation.", he explains
Address: 2F, Daigo Nagaya, 1325-1 Fukawa-Yumoto, Nagato City, Yamaguchi Prefecture
Tel: 070-4426-8169
Business hours: 18:00 – 24:00 (Last order)
Closed: Mondays
yumotoonsen.com/food/the-bar-nagato
365+1 Beer
This craft beer brewery was launched in 2021 after renovating an old pharmacy. Run by husband and wife Takanao and Ayaka Ariga 365+1 Beer offers six standard brews and several seasonal beers.
Address: 1247-2 Fukawa-Yumoto, Nagato City, Yamaguchi Prefecture
Business hours:Please check Instagram for details: sanrokuroku_beer
Onto Shoku
The Onto Shoku restaurant offers a menu of healthy dishes including a delicious Egg-Chicken over rice using local tender Choshu chicken, thich handmade tofu and local vegetables.
Onto Shoku
Address: 2270-5 Fukawa-Yumoto, Nagato City, Yamaguchi Prefecture
Tel: 0837-25-4333
Business hours: 11:00 – 22:00 (21:00 last order)
Closed: Wednesdays
www.ontoshoku.jp
Local Flavour; Nagato Yakitori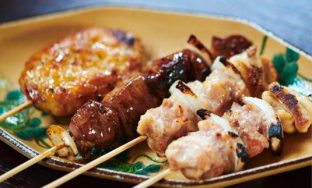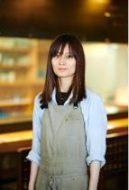 Tsukune (ground chicken), Kimo (Liver),
Momo (thigh). Proprietor Sakurako Aomura. Takeout also available.
Sakura Shokudo
Yakitori is the soul food of Nagato. The proprietor here, procures fresh chicken every morning and skilfully grills it to order. The Nagato style is to spear regular onions on the stick between pieces of chicken and topping it off with garlic powder.
Address: 1272-6 Fukawa-Yumoto, Nagato City, Yamaguchi Prefecture
Tel: 0837-25-3660
Business hours: 11:00 – 14:30 (Last order: 14:00), 17:00 – 22:00 (Last order: 21:30)
Closed: Thursdays
Instagram:@_sakurashokudou_